2014 Run For The Roses
Register Online: Now Available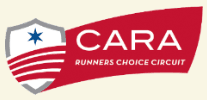 The 20th Annual Sternberg Lighting Roselle Run for the Roses 5K and Youth Run will be held Sunday morning, June 1, 2014. We are excited to have been accepted as a 2014 Chicago Area Runners Association (CARA) Runners Choice Event!
This race was selected to be part of CARA's 2014 competitive circuit of races, named the Runners' Choice Circuit. CARA members can compete on this Circuit for year-end Overall, Age Group, Clydesdale/Athena (weight) and Club awards.
This race is a CARA Certified Race. It has agreed to adhere to and uphold CARA's Best Practices Guidelines. These Guidelines embody the highest standards for quality, safety and comfort for participants in a road race. Due to CARA's advocacy efforts, runners in the Chicagoland area enjoy some of the highest quality road races in the country. To view the Guidelines and to learn more about CARA, visit https://www.cararuns.org/. The Chicago Area Runners Association (CARA) is a non-profit organization devoted to expanding, motivating, supporting and celebrating the running community of Chicagoland. CARA connects runners to resources that enable them to run – farther, faster, better, for life.