TS Youth - What's Ticcin'?
WELCOME TO OUR NEW YOUTH PAGE!

If you are under the age of 18 and have TS or a loved one with TS, then this page is for YOU!
If there is something you would like to read about, tell us! If you have a question, ask us! If you would like to share a story, poem, artwork, video, experience you've had with TS, submit it to Lisa Biedron at [email protected].
Send any questions, recommendations or your own work to [email protected]. You never know we just might use it!
DECEMBER REFLECTIONS by Youth Ambassador Patrick Resh
This is sure an exciting time of year! For me, it is always an anxious time too. There is the normal pressure of homework and school activities but buzz around the holidays makes me a little crazy.
I am going to make an effort to stay calm and filter the noise. I love the holiday season but I also think it is important to appreciate the joys and avoid the commercialism.
Through Illinois TSA, I had an opportunity to meet TS families and speak about Tourette's Syndrome at the Wheaton Montessori School. It is interesting to compare experiences and see how TS affects everyone in different ways. It is very different at age 17 than it is for an adult or a person in second grade.
I enjoyed talking to the students and I worked my way through a few tough questions. I was also reminded how nice it feels to reach out and help others. Sometimes Tourette's can be a real challenge, but you can also think of it as your 'Area of Expertise.' It is pretty cool to share that expertise and hope that it will help other people.
I hope your families enjoy this upcoming season. Remember to relax and stay calm!
NOVEMBER REFLECTIONS by Youth Ambassador Patrick Resh
By this time in the fall, I feel fairly well acclimated to school and have settled into the routine of homework and teacher expectations. At first it was a bit difficult because there was so much information being delivered at one time. Fortunately, I have a number of individuals who have been helpful getting me on track.
My parents, school counselor and all of my teachers had a meeting early in the school year to discuss how Tourette's Syndrome affects my day and described some of the challenges I face when overloaded with work and stress. The group openly discussed what has worked in the past and suggested classroom strategies for particular difficulties.
I will admit I am not very organized. (Last year's back pack is still on my desk and is loaded with books, crumpled papers and probably a few old sandwiches). After much arm twisting, I started using my daily assignment notebook to write down tasks each day. Each week my teachers send an e-mail to my parents listing assignments that are due. My dad checks the school website for daily class work and notes. We talk about my assignments and each morning, he e-mails a brief note to the teachers checking off the work I have completed for that day. With this routine established, I am able to concentrate on the homework itself and focus on the content of the course material. I no longer have missing assignments and my test grades have improved and have been consistent. I encourage families to communicate with teachers and school administrators because teachers want to do their job and help make you successful.
All this talk about school has me looking forward to Thanksgiving, my favorite holiday. I love the changing weather, the colors and smells of fall. The family gatherings give me warm feelings and it is an opportunity to relax, watch some movies, visit and give thanks. I hope your families enjoy this break just as much as I will. Happy Thanksgiving!
EVERYONE CAN MAKE A DIFFERENCE, NO MATTER WHAT YOUR AGE IS!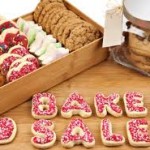 Bake Sale
Lake Zurich Wal-Mart
820 S. Rand Road, Lake Zurich, IL
Saturday & Sunday, August 11th & 12th
12:00 pm – 6:00 pm
Ever wonder how you can make a difference? Youth Karen Lai of Lake Zurich decided to have a bake sale at her local Wal-Mart in Lake Zurich with 100% of the proceeds going to Tourette Syndrome Association of Illinois (TSA-IL)!
Karen called TSA-IL in July to organize a bake sale in August. We were curious, not many people approach us asking to raise money for us. We certainly are grateful but curious. Lisa Biedron of TSA-IL asked Karen for an interview to gain some insight into this inspiring 16 year old.
INTERVIEW WITH KAREN LAI, a Junior at Lake Zurich High School
What motivated you to raise money for charitable organizations? It started with one website, https://en.wikipedia.org/wiki/GivesMeHope. I was inspired by the small acts of kindness that I read about on that site. I learned that one act, no matter how tiny, could affect someone else for the better. I wanted to make a difference, so I decided to fundraise for organizations that helped people. I believed that it was about time that I started to give back. And I know that the money will be used to bring a smile on someone's face or create hope for someone's future. It's all I wish to do for someone, and I am glad I made the choice.
How did you get the idea to raise money by bake sales? For me, a bake sale is the most simple and convenient method of fundraising. Like anyone, food is an obsession of mine. I know no one can turn down a tasty cupcake or a fudge brownie!
How do you prepare for each bake sale? Does anyone help you? For each bake sale, the first step is to decide on and contact the organization that we will be fundraising for. After that the location is decided (but previously that has been relatively simple. The bake sales in the past have been on a road by my house). I have always been grateful that I have my friends who volunteer to bake food and work at the table. Basically, the bake sales are an event which all of us can have fun at. My mom always helps me organize and come up with ideas. We like to bake new recipes together. The week before the bake sale is always crunch time because we have to bake the food, finish the signs, and plan the set up. It is getting easier as we do each bake sale.
How many years have you been raising money by doing bake sales? Two years. The year I decided to start a bake sale was the summer before my freshman year (2010). Afterwards I set a goal to organize a bake sale every summer until I left for college. This will be our third bake sale.
The first bake sale was very exciting because it was a surprise for my best friend's family. My friend's youngest brother, Noah, has autism, so I knew fundraising for Autism Speaks was a great idea. My other friends and I kept the bake sale a secret from her and in the end we surprised Noah's family with the donation to AS. Later, the family got involved with AS because it would be a way to support others with autism.
What charities have you helped previously? We have helped Autism Speaks and National Children's Cancer Society.
What made you pick the Tourette Syndrome Association of Illinois this year? My friend Brian, who has Tourette syndrome, suggested TSA-IL to me. I couldn't think of a better organization to do it for! His ability to cope with this neurological condition makes him one of the strongest people I know. This bake sale will spread awareness to others about TS. I want to support those with the often misunderstood Tourette Syndrome!
What do you like to do in your spare time? I'm a music person. When I'm not busy with school work, I practice piano and violin. I practically sleep with my iPod. I love music and my bands. I am a black belt in Tae Kwon-Do. Martial art has molded me into the person I am, and it is a great passion. And if I could, I would draw and read books day in, day out. I started volunteering at a nursing home, and I am in Interact, a club that helps students to volunteer in the community. I recommend volunteering to teenagers who do not have much to do over the summer or the weekend, because it is a very rewarding experience.
Not many young people feel like they can make a difference, what words of advice do you have for them? Like I said before, a small act can make a difference. It can be something as simple as a compliment, which could change a person's attitude for the rest of the day! The truth is that it does not matter what your age is. If you have a goal you want to achieve, you just have to take that first step. Do not worry about failure. And never miss out on an opportunity. If you are given an opportunity, take it because you never know what the outcome is. We are all capable of making a difference through the choices we make. You never know what will happen.
Thank you Karen for your time and for your message "A small act can make a difference... regardless of your age." Raising funds for TSA-IL and advocating for Tourette Syndrome is most certainly a winning combination.
Please come out Saturday or Sunday, August 11th and 12 to support Karen by purchasing some of her yummy treats and her dedicated efforts to TS! Make sure no cookie is left behind!
My Life with TS by Lane Easley, Albuquerque, New Mexico

I was diagnosed with Tourettes at age 8 and have lived with a mild case using no medications but relying on relaxation techniques and staying active. I began skateboarding for the pure fun of it but also as a way to release built-up energy throughout the school day. I am still a very active skateboarder and I have added yoga as a routine activity.
I began my love for traveling when I did a year exchange from the University of New Mexico in Albuquerque to Portland State University in Oregon. While studying Latin American Studies I also lived in Buenos Aires, Argentina on an international exchange and studied for a summer in Trujillo, Spain. I lived in northern Spain for one year as a representative for the Department of Education attending different high school english classes to speak.
TSA-IL Meets James Durbin!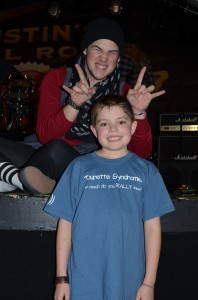 A dream came true for several TSA-IL youth when they got the opportunity of a lifetime to meet an idol, an American Idol!
For those that may not know, James Durbin rocked the American Idol stage this time last year in Season 10. He touched the hearts of America with his incredible vocals, energetic performances and as the season progressed opened up about his Asperger and Tourette syndrome.
"It was amazing to meet James... he had to take medicine when he was younger for his tics too. I still don't like taking medicine but now I can say I have something in common with a celebrity!" exclaimed 9 year old Katie.
Eleven year old Allison was curious about James' signature silver leaf earring, stating it must be special since he always wears it. James agreed it was indeed special.
PBS Documentary, Different is the New Normal: Living Life with Tourette's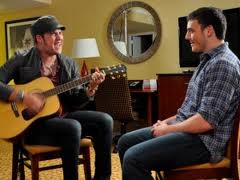 Different is the New Normal: Living a Life with Tourette's is a new PBS documentary featuring the Small Family in Highland Park, IL. The film reveals a very personal view of 17 year old Ariel Small, who was diagnosed with Tourette Syndrome (TS) and Obsessive Compulsive Disorder (OCD) as a child.
The documentary bravely shows the Small family's journey to understand Tourette Syndrome, Ariel's day to day dealings with TS including the trials and tribulations associated in handling others' intolerance and misconceptions about TS as well as Ariel's triumphs and successes. Most importantly he doesn't let Tourettes define him. He has dreams and the ability to make them happen.
What TS Has Done For Me - by Ben Auerbach, age 17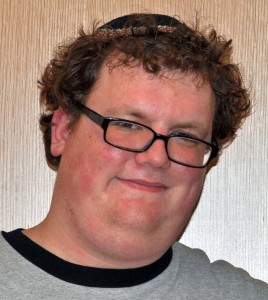 Hello, my name is Ben Auerbach, and I am sure that you have already guessed that I have Tourette Syndrome. Well, you would be correct. I was diagnosed with TS in 4th grade. At first, I continuously blinked and had a terrible stutter. I also would do a little dance when I walked. It turns out that this dance might have been a "sign" from the future. I have been taking Hip Hop dance classes four times a week for two years now, including performing in a company that required an audition.
During middle school, my TS was manageable, even though the tics were still prevalent in my daily life. In 6th grade I made a high-pitched noise while taking tests, which distracted many of my classmates. In order to fix this problem, I started listening to an I-pod and sitting at the teacher's desk in the back of the room during tests. I loved this solution since it made me feel special and deserving of such privileges like using an I-pod, which was not allowed in my school, and sitting at the coveted desk of the teacher, where everyone wanted to sit.
By high school my tics were going full speed and continue to do so today. I made noises, bit walls, and even flipped people off along with many other tics. I will admit that my tics were sometimes used in devilish ways.